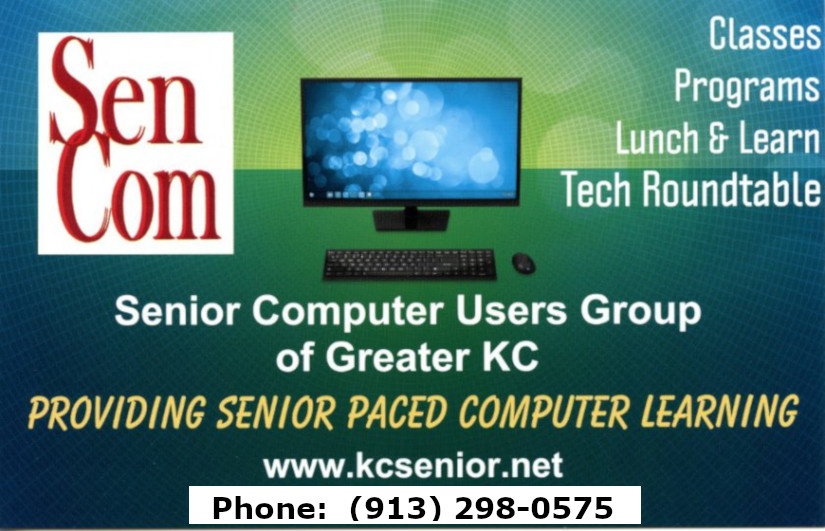 ---
Android SIG
Oak Park Library
9500 Bluejacket St
Overland Park, KS 66214
Small Meeting Room
MAP→
Wednesday, Jan 26, 2022, 2:30 – 4:00 pm
Note: This will be a hybrid meeting. You can join in-person or remotely using the Free Conference Call. Refer to the Revised Virtual Meeting Procedure shown below.

At Wednesday's meeting we will discuss receiving ads from some apps and try to discover some red flags of dangerous and/or obnoxious apps. As usual, we will try to answer your questions about the Android operating system and explore some of the settings available to us.
If you have any questions about Android, please email me as soon as possible. I will try to be on-line at 2:15 pm in case any of you would like to chat before the meeting.
Looking forward to seeing you on Wednesday,
Bob Bowser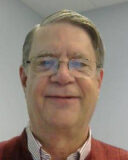 Bob Bowser convenes the Android SIG
(785) 608-4904, bobbowser.rdb@gmail.com
---
Revised Virtual Meeting Procedure:
We miss seeing our members. If you have been having problems joining our virtual meetings using Free Conference Call, please contact a Board Member and one of us will work with you prior to the meeting you are interested in joining. Board Members' email addresses and phone numbers are under the "About Us" tab of SenCom's website.
QUICK ACCESS TO A SENCOM MEETING
If you have the FreeConferenceCall (FCC) app, please start the app to join our meeting with audio and video. If you do not have the FCC app and do not want to install the FCC app, please click on this link below to enter the virtual meeting, and participate with audio only (your picture will not be available to anyone):
https://www.freeconferencecall.com/wall/sencomuser00/viewer
You will still need to tell Free Conference Call to use the audio either of your computer or through a separate phone call. If you are using the FCC app on a computer, smartphone, or tablet, turn on your video by clicking on the icon of a video camera so that we can see you. On a phone or tablet, you may need to tap your screen to see the icon.
Here are the complete instructions for our virtual meeting procedure:
We are using a service called Free Conference Call that allows all of us to be on at one time through video/audio conferencing or just audio conferencing. If you have a camera and speakers on your desktop computer or a laptop computer with a camera and speakers, you will find that using your PC or Mac computer along with the FCC app will probably give you the best experience. To use your computer to conference into the meeting, follow the instructions that I have assembled in this PDF:
Using your computer to access the Free Conference Call (PDF)→ (Revised)
Also available on our Free Conference Call page→ (Revised)
When using the Chrome browser to access a video conference, you may see a message that your browser has blocked access to your camera or audio. Look at the icons at the top right area of your browser for an icon with a red X like the following:

Click on the icon and then click on the button to allow access and then click the Done button. If the red X does not disappear after a few seconds you may need to refresh your browser by clicking on the icon near the top left of your browser that looks like the following:

The settings for the site will be saved in your Chrome browser Privacy and security settings so you will not need to do this the next time you access the site.
Although Chrome is the preferred browser, others have used Firefox without any problems.
For those who wish to use their Android devices (either tablet or phone), we are using an app called FreeConferenceCall that you can download from the Google Play Store (note that there are no spaces in the app name). Bob Bowser has assembled a set of instructions that you can print and follow to join the meeting:
Using your Android device to access the FreeConferenceCall (PDF)→
Apple iPad/iPhone users can find the same app (Free Conference Call) on the Apple App Store. Installing and using it should be very similar to the Android instructions above.
#
---
---
WEDNESDAY WORKSHOP
January 26, 11:00 am CT
Chromebooks, an Alternative
Bill James, APCUG Region 8 Advisor & Speakers Bureau Member
AND
Snapseed, digital editing with your Chromebook and Android & iOS devices
Chris & Jim Guld, Geeks on Tour
Register here – https://forms.gle/iHjoMwk8ZZVP59La6
Registration closes at 10:30 pm CT on January 25.
As requested, it's all about Chromebooks.
Chromebooks, an Alternative. A Chromebook does what many people want a computer to do, better and faster than any other laptop, regardless of price. It is the most secure portal to the Web that has ever been built because of super-fast updates and sandboxing. A Chromebook can pair with your Android phone and be used for messaging and video calling. It is perfect for anyone who wants to grab a laptop, sign in, and spend an afternoon watching Netflix or shopping online. You can also use it as a terminal to connect to your Windows PC or Mac. Chromebooks are Fun! Learn more from this informative presentation.
Snapseed. Enhance your photos, apply digital filters, and take your photos from So-So to Stunning with the Free Snapseed app on your Chromebook, Android, and iOS mobile devices.
Use it along with Google Photos when you want to improve your photo in a way that Google Photos can't. If all you need to do is a basic crop, straighten, brighten, etc., you can use the simple tools built into Google Photos.
Copyright © 2021 APCUG, all rights reserved.

---
---
Pegah's Family Restaurant
12122 W 87th Street
Lenexa, KS 66215
Second block W of Quivira Rd, N side
MAP→
Friday, Jan 28, 2022, 11:30 am – 1:30 pm
January Demo:
8 Ways to Find Blogs – wikiHow
Computer Device Trouble?
Bring your Questions
Visitors Always Welcome
Mary Ann Baltuska is the
Hospitality Director
SenCom Lunch & Learn usually meets on the 4th Friday of the month. This is a social gathering, with casual computer talk and good times. You can join in the conversation or just come listen. Everyone learns something!
#
We need volunteers to help our board members and to fill two positions: Programs and Education. We also need help with Publicity. If interested, please email me or another Board Member. Our email addresses are on the "Board of Directors" page under the "About Us" menu.  Remember, this is your organization; please help us keep it healthy and growing.
LITTLE OR NO COMPUTER SKILLS REQUIRED. 
Lou Risley, (913) 298-0575 or sencomprez@gmail.com

•  CDC is Closely Monitoring the Coronavirus Outbreak →
•  Google's Coronavirus Website →

---
---
GEEK FREE
By Joe Callison
17 January 2022
Windows Settings for Ease of Use
Windows has a number of settings that can make it easier to use computers, especially as we begin to lose manual dexterity and visual acuity with age. There are a few settings that I recommend every senior computer user consider to possibly enhance their user experience. I have used Windows 11 screenshots because people getting new computers are more likely to need or want to make these changes and the settings look different than they might be used to in Windows 10.
Display Settings
Computer monitors and laptop/tablet screens come with various display resolutions described in pixels or letters for the various display standards. Some of the common ones currently provided are:
XGA (1024 x 768 pixels)
SXGA (1280 x 1024 pixels)
WXGA (1280 x 768 pixels)
HD 1080 (1920 x 1080 pixels)
WUXGA (1920 x 1200 pixels)
WQXGA (2560 x 1600 pixels)
With display resolutions greater than XGA a document or web page designed for display at 1024 x 768 XGA resolution would fill only part of the screen unless it is magnified. There are Windows display settings for the resolution of the provided display, and also for the amount of magnification. As shown in the following screenshot of the display settings for a Windows 11 laptop, the recommended resolution is 2256 x 1504. This is the resolution the screen and graphics processor were designed to provide and should give the best image, but it would be a tiny image on the screen if not magnified. The recommended scale (magnification) using this resolution is 200% because it is about twice the XGA resolution! It could be set for an even higher scale if desired. The scale (zoom) could also be set individually in each app such as a browser or word processor but doing it in the display settings applies it to everything on the computer.
Text Size
Even with all the items on the screen enlarged using the display settings, users often prefer that the text size be even larger without increasing the size of the rest of the display. This can be done with the text size settings as shown below.
Visual Effects
A common complaint I hear is about scroll bars. By default, Windows hides the scroll bars unless needed to see the whole image and also minimizes them to just a thin line unless you hover the cursor over the line which expands it. There is a Windows setting to always show the scroll bars instead of minimizing them that can be turned on.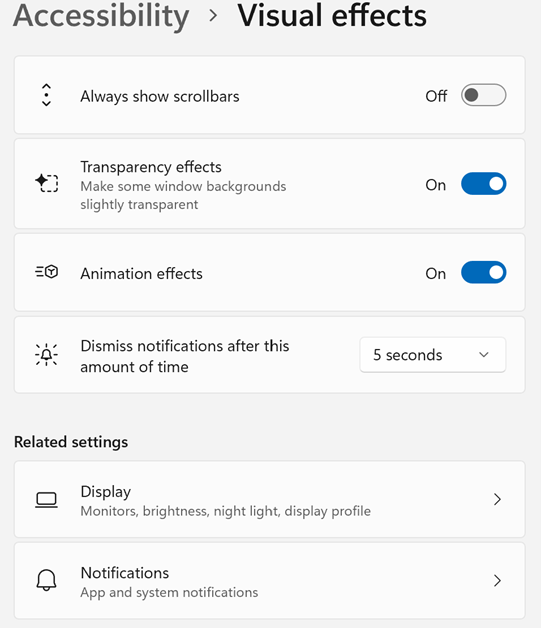 Mouse Settings
There are a few settings for the mouse that can make it easier for some people to use. The available settings will depend on the mouse features and the mouse driver software provided.
The primary mouse button used to click on items is the left button by default, but left-handed users often prefer changing it to the right button for using the index finger on their left hand.

The mouse pointer speed can be slowed down so the cursor doesn't zip all over the screen with small movements or adjusted faster if you find yourself picking up the mouse and moving it all the time.

The number of lines to scroll at a time with the mouse wheel can be adjusted to scroll faster or slower.

Using the advanced mouse settings, you can access all of the mouse properties and adjust the double click speed to allow longer pauses between each click.

If you have trouble holding the mouse steady enough for reliable double clicking you can change to use a single click by going to File Explorer, click the three dots to See more (click View in Windows 10), click Options and change to "single click to open an item (point to select)" and then click Apply or OK. Tip: You can also use the search on the Windows 10 or 11 taskbar by typing File Explorer Options or Folder Options and go directly to the icon to open it in the search results.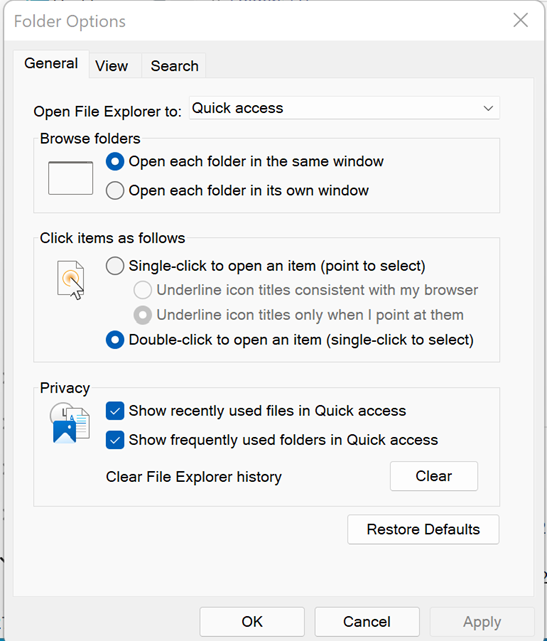 Keyboard Settings
If you tend to get more than one character when you press a key, there is a Filter keys option you can turn on and adjust the sensitivity of the keyboard.

Toggle keys can be turned on to play a sound when you press caps, num or scroll lock, which people often accidentally hit and will make you aware of it.
There are many more settings in the Accessibility area for other needs, such as having Magnifier read out loud, making colors easier to see, typing with your voice, displaying audio as text and more.
#
---
FOR~GO
(For Geeks Only)
By Joe Callison
18 November 2021
A Trip Down Memory Lane
Sometimes we would like to have an old program or need an older version of a program to access files that we have or maybe just for nostalgic reasons. There are several websites that are repositories for old software that can be downloaded from them. There are also user groups that you can become a member of and have access to copies of old software contributed by members. Some of the software for installation of a program or operating system may or may not require you to have an existing software license to be able to run it. The following links provide information on some of the available sites for old software:
The 10 Best Sites to Download Older Versions of Software
List of websites to download old version software for Windows PC
Macintosh Repository: Old Mac Software Archive
Internet Archive: Digital Library of Free & Borrowable Books, Movies, Music & Wayback Machine
Download old PC games for DOS and Windows
VETUSWARE.COM – the biggest free abandonware collection in the universe
If you search the internet for other software repositories, almost all results will be for sites used by software developers to store their work, such as github. Search instead for old software, old software repositories, old software archives, or abandonware.
In order to run old software on a modern operating system you may need to run it in a virtual machine, which is software to emulate another computer system. Software to create a virtual machine is available from VMware, Parallels, VirtualBox, Hyper-V, DOSBox and others. Otherwise, you could use an old compatible computer that still functions.
Best virtual machine software of 2021
Beginner Geek: How to Create and Use Virtual Machines
---
---
Google Fiber
City of Shawnee:
Parks & Recreation Department
Johnson County Library:
Central Resource, Oak Park
---
---
SENCOM IS A NOT-FOR-PROFIT KANSAS CORPORATION
UNDER THE IRS 501(C)(3) RULES

---
---