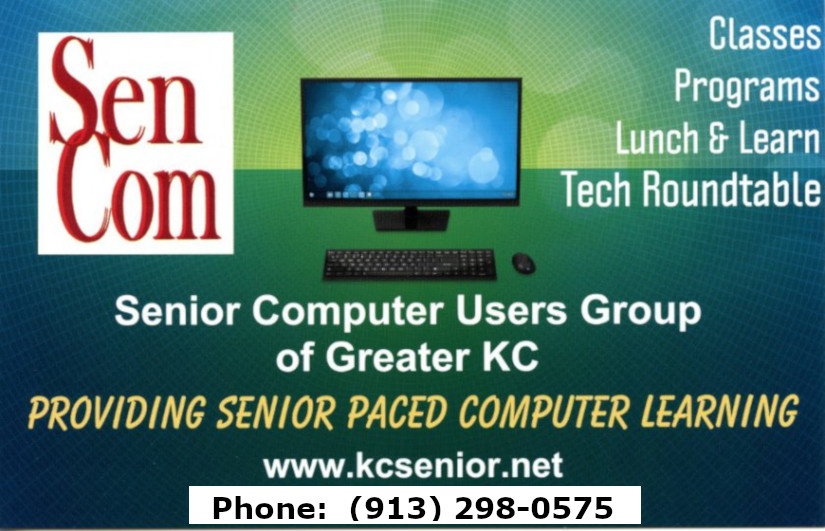 ---
---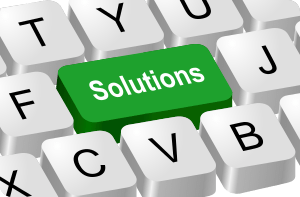 Senior Techies SIG
Central Resource Library
9875 W 87th Street
Overland Park, KS 66212
Conference Room 01
Wednesday, December 13, 2023, 2:30 ~ 4:00 pm
---
Note: This will be a hybrid meeting. You can join in person or remotely using the Free Conference Call as referenced in the Revised Virtual Meeting Procedure shown below.
---
Joe Callison convenes the Senior Techies SIG
sencommember00@gmail.com
(913) 229-4684
.
---
Revised Virtual Meeting Procedure:
We miss seeing our members. If you have been having problems joining our virtual meetings using Free Conference Call, please contact a Board Member and one of us will work with you before the meeting you are interested in joining. Board Members' email addresses and phone numbers are under the "About Us" tab of SenCom's website.
QUICK ACCESS TO A SENCOM MEETING
If you have the FreeConferenceCall (FCC) app, please start the app to join our meeting with audio and video. If you do not have the FCC app and do not want to install the FCC app, please click on this link below to enter the virtual meeting, and participate with audio only (your picture will not be available to anyone):
https://www.freeconferencecall.com/wall/sencomuser00/viewer
You will still need to tell Free Conference Call to use the audio either on your computer or through a separate phone call. If you are using the FCC app on a computer, smartphone, or tablet, turn on your video by clicking on the icon of a video camera so that we can see you. On a phone or tablet, you may need to tap your screen to see the icon.
Here are the complete instructions for our virtual meeting procedure:
We are using a service called Free Conference Call that allows all of us to be on at one time through video/audio conferencing or just audio conferencing. If you have a camera and speakers on your desktop computer or a laptop computer with a camera and speakers, you will find that using your PC or Mac computer along with the FCC app will probably give you the best experience. To use your computer to conference into the meeting, follow the instructions that I have assembled in this PDF:
Using your computer to access the Free Conference Call (PDF) → (Revised)
Also available on our Free Conference Call page → (Revised)
When using the Chrome browser to access a video conference, you may see a message that your browser has blocked access to your camera or audio. Look at the icons at the top right area of your browser for an icon with a red X like the following:

Click on the icon and then click on the button to allow access and then click the Done button. If the red X does not disappear after a few seconds you may need to refresh your browser by clicking on the icon near the top left of your browser that looks like the following:

The settings for the site will be saved in your Chrome browser Privacy and security settings so you will not need to do this the next time you access the site.
Although Chrome is the preferred browser, others have used Firefox without any problems.
For those who wish to use their Android devices (either tablet or phone), we are using an app called FreeConferenceCall that you can download from the Google Play Store (note that there are no spaces in the app name). Bob Bowser has assembled a set of instructions that you can print and follow to join the meeting:
Using your Android device to access the FreeConferenceCall (PDF)→
Apple iPad/iPhone users can find the same app (Free Conference Call) on the Apple App Store. Installing and using it should be very similar to the Android instructions above.
#
---
.

SenCom is on Facebook. See the access instructions below to find our Facebook Group page (SenComKC).  Check it out!  Share your favorite SenCom moment or interaction.

To access the group page:
Log into your Facebook account.

On your computer, click "Search Facebook," left-hand corner (to the left of the home icon, on your mobile device, in the middle of the screen on top, then type SenComKC (not case sensitive).
Search results should give you "Groups" and under that, you will see SenComKC. To the right of your search results, you should see a "Join" button. Click the button to request to be a member of this Facebook group.


.
SOS! NEEDED NOW! – A volunteer to help our Board of Directors by filling the vacant board position of Vice President. If interested, please email me or another Board Member. Our email addresses are on the "Board of Directors" page under the "About Us" menu. Remember, this is your organization; please help us keep it healthy and growing!!
LITTLE OR NO COMPUTER SKILLS REQUIRED.
Lou Risley, 913-298-0575 or sencomprez@gmail.com

---
---
The Oak Park Library is closed through mid-December for construction →

---
---
CDC information on the Coronavirus Outbreak →

---
---
.
GEEK FREE
By Joe Callison
31 October, 2023
Chromebook Automatic Update Support Improved
Chromebook share of the laptop market has averaged about 1 out of 8 of the laptops sold over the last 4 years, primarily because of use by elementary schools. The comparatively low initial purchase cost has been a major driver, even with the relatively short 5-year automatic software update support for new models. This seems to have been of little concern for many schools where students were allowed to take them home because they tended to wear them out by then and needed to be replaced anyway. Schools that can not afford to buy new ones every few years or others considering Chromebooks will be happy to know about Google's recent announcement further increasing a previously planned support period of 8 years (in line with current Apple and Microsoft support) to an industry-leading 10 years support, beginning with models from 2021. This should be good news for senior citizens who may have been avoiding Chromebooks because of the short support period, especially if they were aware that bargain Chromebooks were being sold on Amazon with as little as 2 years of support left. Now even two or three-year-old models will have a more reasonable amount of support time left.
With the change in support, Chromebooks may be an attractive alternative to more expensive Windows or MacOS-based offerings. Chromebook models with screen sizes larger than 14 inches may be harder to find, but an external monitor or TV might also be usable with a USB-C to HDMI adapter if the Chromebook model supports video output through USB. For most senior computer users, a Chromebook should fulfill their computing needs quite well.
#
FOR~GO
(For Geeks Only)
By Joe Callison
31 October 2023
Managing BitLocker
You may have recently seen articles about BitLocker on Windows 11 slowing SSD performance by as much as 45% in some applications. The slowdown is due to using software encryption by the operating system. This may eventually be resolved by Windows 11 patches. There are some processors and SSDs with hardware encryption capability, but these have had vulnerabilities requiring patches.
Many computers preinstalled or newly installed with Windows 11 Pro, Enterprise, or Education will have BitLocker turned on by default. If you use the software encryption feature of Windows, it is imperative to safely store the Recovery Key. Even then, there have been reported cases of the Recovery Key not working. Having an unencrypted backup of your essential data is still recommended.
A couple of good references for using or disabling BitLocker are below:
Windows 11 Pro users beware: Microsoft's BitLocker encryption could be seriously slowing down your PC | TechRadar
How to configure BitLocker encryption on Windows 11 | Windows Central
.
---
---