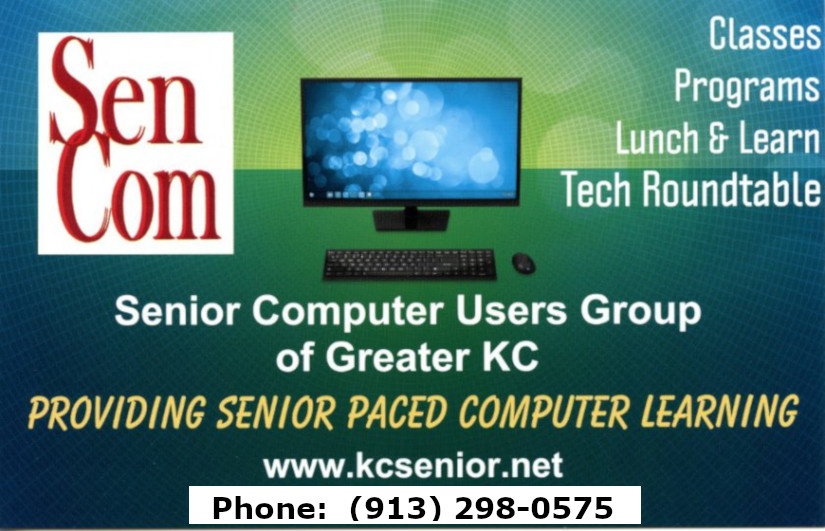 ---
Pegah's Family Restaurant
12122 West 87th Street
Lenexa, KS 66215
Second block W of Quivira Rd, N side
Friday, March 24, 2023, 11:30 am ~ 1:30 pm
Main Topic:
Some of the New Windows 10 and 11 Features
Computer Device Trouble?
Bring your Questions
Visitors Always Welcome

Mary Ann Baltuska is the
Hospitality Director
SenCom Lunch & Learn usually meets on the 4th Friday of the month. This is a social gathering, with casual computer talk and good times. You can join in the conversation or just come listen. Everyone learns something.
#
---
---
** NEWS ABOUT DUES! **
I am pleased to announce that at their February 2023 meeting, the SenCom Board of Directors approved a REDUCTION in the dues schedule.
Effective immediately, the new rates are:
$25.00 for one year, $40.00 for two years, OR
$40.00 for one year – two persons residing at the same address.
This action was possible because of generous tax-deductible donations to SenCom, a 501(c)3 non-profit corporation.
Thanks also to the diligence of our Watchdog Treasurer Mike Hurley and the Board of Directors with the help of our instructors and other volunteers.
Lou Risley
SenCom President

---
---
*  Volunteer Needed  *
SOS! NEEDED NOW! – A volunteer to help our Board of Directors by filling the vacant board position of Publicity Director. If interested, please email me or another Board Member. Our email addresses are on the "Board of Directors" page under the "About Us" menu. Remember, this is your organization; please help us keep it healthy and growing!!
LITTLE OR NO COMPUTER SKILLS REQUIRED.
Lou Risley, 913-298-0575 or sencomprez@gmail.com
•  CDC is Closely Monitoring the Coronavirus Outbreak →
•  Google's Coronavirus Website →

---
---

GEEK FREE
By Joe Callison
12 February 2023
What to Know About Buying a Laptop in 2023
It is getting very difficult to provide recommendations for new laptops to people because most are not designed for long-term use anymore. Planned obsolescence seems to be the goal, whether the products are Apple, Windows, or Chromebook based. They seem to be following the same pattern as Apple and Android smartphones both in their construction and lack of long-term support. Operating systems are generally supported with security updates for about 3 years after they come out. Updating the operating system is expected yearly and is generally possible for about 5 years before the hardware no longer meets all of the requirements of the latest operating system. Most are not designed with repairability in mind. Even replacing a battery can require a difficult and expensive teardown.
It used to be a given that laptops had upgradeable RAM and storage drives as a minimum. Now many models have soldered-in RAM or eMMC for memory that can't be upgraded and is impractical to repair. Some even have soldered-in storage drives. These components have hundreds of individual microscopic solder connections. Any single connection that fails can cause the laptop to no longer function. It may not be easy to determine if a laptop model has soldered components. It may be mentioned in detailed technical specifications or in some of the better technical reviews.
The top-selling laptops are from major brands like Apple, HP, Dell, and Lenovo. They all have several tiers of models with various features and prices, from budget to gaming capable.
Apple has MacBook Air (M1, M2) and MacBook Pro (M1, M2) models.
HP has HP (no name), Pavilion, Envy, Spectre, Omen
Dell has Inspiron, Vostro, Latitude, G Series, XPS, and partner Alienware
Lenovo has IdeaPad, ThinkBook, ThinkPad, Yoga, Legion
I prefer to order computers directly from the manufacturer's website rather than a big box store or Amazon, Sam's, or Costco. That way I can look at the details of the configuration and even change items if I want. Just watch out for the sneaky $9.95 per month warranty that Dell put in their fine print that starts billing the second month. After much complaining by customers, they may have changed that by now.
The low-budget non-Apple models are generally of plastic construction, rather flimsy, and are often provided with lower resolution displays, such as 1366 x 768 (HD) instead of 1920 x 1080 (Full HD). The higher resolution display is much preferable. Touchscreen is an unnecessary option for laptops in my opinion unless designed for tablet mode (two-in-one, flex, etc.). The better laptops have at least some carbon fiber or aluminum in their construction.
Windows laptop processors are generally either Intel or AMD. They range in price and performance from low to high as follows.
Intel – Celeron, Pentium, i3, i5, i7
AMD – Athlon, Ryzen 3, Ryzen 5, Ryzen 7
A good experience can be expected with an Intel i5 or AMD Ryzen 5 processor or better. Intel i3 or Ryzen 3 should be the minimum to consider for even a very low-budget Windows laptop. Chromebooks can get by with lesser processors.
The amount of RAM in most new Windows laptops is at least 8 GB these days, which is enough for most users. If you must get a model with soldered-in RAM, it might be wise to get 16 GB unless there is a socket for expansion beyond the basic 8 GB of soldered-in memory.
The storage drive should be at least 256 GB for most Windows users. The typical actual used amount I see for a user is around 60 GB. You want to allow for at least double that amount without exceeding more than about 80 percent of the drive capacity, so the smallest available size meeting that typical usage example would be 256 GB. If you want to store a lot of photos, music files, or videos, it would be best to put them on an external drive.
If you care about the audio quality of a laptop, look for models with either front or top-facing speakers and a premium audio name like Bang & Olufsen, Harman Kardon, Beats, Dolby, or DTS.
A 2023 mid-level 15-inch laptop with 11th or 12th generation i5 or a Ryzen 5 processor, 1920 x 1080 display, 8 GB RAM, and 256 GB SSD should be available in the $600 to $800 price range.

---
.
FOR~GO
(For Geeks Only)
By Joe Callison
15 March 2023
Create a Second Monitor from Old Devices
I have been trying out a Spacedesk app (free Beta version) from datronicsoft that allows you to use a phone, tablet, computer, or smart TV as a second monitor for your Windows computer using your network wi-fi. The second monitor can be Windows (7 through 11), Android (>4.1, including Amazon devices), or iOS (>9.3). Android devices can also be connected directly by USB cable as a second monitor if you wish. Both Android and iOS devices that support tethering by USB can also be used. Any device running a web browser that supports HTML5 will also work.
A Spacedesk driver must be downloaded from spacedesk.net for the primary Windows computer. Instructions are in the User Manual found by clicking the Documentation tab on the home page. On the device acting as the second monitor, you must download the Spacedesk -Display Monitor app (may be called Spacedesk or Spacedesk Viewer on other than Android) from the appropriate app store for the device.
So far I have tested Spacedesk using an Android phone and an old Android (4.3) tablet and they both worked on wi-fi. I have also tested the tablet by direct USB cable and that also is working. I think this is a great way to make use of old unsupported devices.
A Spacedesk Pro version is in the works that will support more features and provide the capability of building a video wall of monitors.
#
---
---
For bad weather closings, SenCom follows the policy of the Shawnee Mission School District. However, if this occurs on a General Meeting day, that meeting will become a virtual-only meeting.
---
---
Google Fiber
City of Shawnee:
Parks & Recreation Department
Johnson County Library:
Central Resource, Oak Park
---
---
SENCOM IS A NOT-FOR-PROFIT KANSAS CORPORATION
UNDER THE IRS 501(C)(3) RULES

---
---