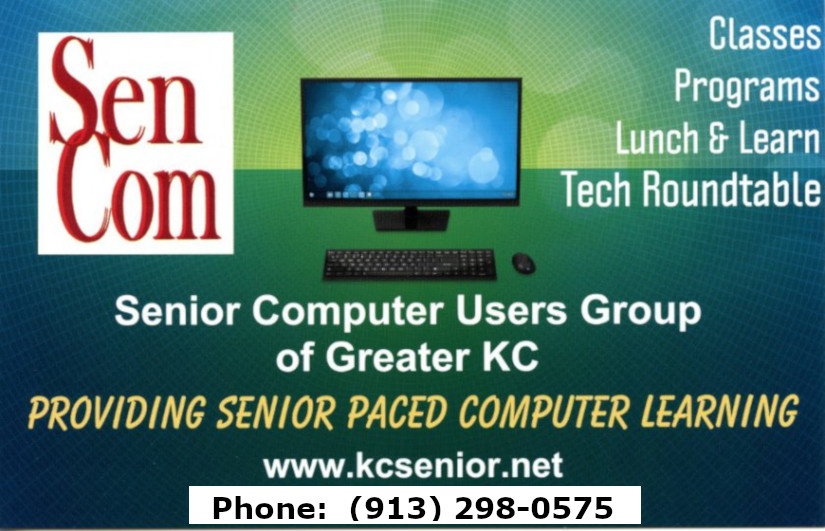 ---
For bad weather closings, SenCom follows the policy of the Shawnee Mission School District. However, if this occurs on a General Meeting day, that meeting will become a virtual-only meeting.
---
Pegah's Family Restaurant
12122 West 87th Street
Lenexa, KS 66215
Second block W of Quivira Rd, N side

Friday, January 27, 2023, 11:30 am ~ 1:30 pm
Computer Device Trouble?
Bring your Questions
Visitors Always Welcome

Mary Ann Baltuska is the Hospitality Director
SenCom Lunch & Learn usually meets on the 4th Friday of the month. This is a social gathering, with casual computer talk and good times. You can join in the conversation or just come listen. Everyone learns something!
---
---
.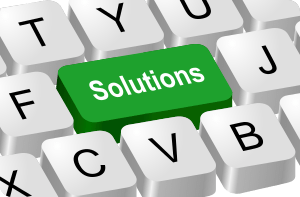 Senior Techies SIG
Central Resource Library
9875 W 87th Street
Overland Park, KS 66212
Central Conference Room 01
Wednesday, February 8, 2023, 2:30 ~ 4:00 pm

Special Topic To Be Determined
---
Note: This will be a hybrid meeting. You can join in person or remotely using the Free Conference Call as referenced in the Revised Virtual Meeting Procedure shown below.
---
Joe Callison convenes the Senior Techies SIG
sencommember00@gmail.com
(913) 229-4684

---
---
Revised Virtual Meeting Procedure:
We miss seeing our members. If you have been having problems joining our virtual meetings using Free Conference Call, please contact a Board Member and one of us will work with you prior to the meeting you are interested in joining. Board Members' email addresses and phone numbers are under the "About Us" tab of SenCom's website.
QUICK ACCESS TO A SENCOM MEETING
If you have the FreeConferenceCall (FCC) app, please start the app to join our meeting with audio and video. If you do not have the FCC app and do not want to install the FCC app, please click on this link below to enter the virtual meeting, and participate with audio only (your picture will not be available to anyone):
https://www.freeconferencecall.com/wall/sencomuser00/viewer
You will still need to tell Free Conference Call to use the audio either of your computer or through a separate phone call. If you are using the FCC app on a computer, smartphone, or tablet, turn on your video by clicking on the icon of a video camera so that we can see you. On a phone or tablet, you may need to tap your screen to see the icon.
Here are the complete instructions for our virtual meeting procedure:
We are using a service called Free Conference Call that allows all of us to be on at one time through video/audio conferencing or just audio conferencing. If you have a camera and speakers on your desktop computer or a laptop computer with a camera and speakers, you will find that using your PC or Mac computer along with the FCC app will probably give you the best experience. To use your computer to conference into the meeting, follow the instructions that I have assembled in this PDF:
Using your computer to access the Free Conference Call (PDF)→ (Revised)
Also available on our Free Conference Call page→ (Revised)
When using the Chrome browser to access a video conference, you may see a message that your browser has blocked access to your camera or audio. Look at the icons at the top right area of your browser for an icon with a red X like the following:

Click on the icon and then click on the button to allow access and then click the Done button. If the red X does not disappear after a few seconds you may need to refresh your browser by clicking on the icon near the top left of your browser that looks like the following:

The settings for the site will be saved in your Chrome browser Privacy and security settings so you will not need to do this the next time you access the site.
Although Chrome is the preferred browser, others have used Firefox without any problems.
For those who wish to use their Android devices (either tablet or phone), we are using an app called FreeConferenceCall that you can download from the Google Play Store (note that there are no spaces in the app name). Bob Bowser has assembled a set of instructions that you can print and follow to join the meeting:
Using your Android device to access the FreeConferenceCall (PDF)→
Apple iPad/iPhone users can find the same app (Free Conference Call) on the Apple App Store. Installing and using it should be very similar to the Android instructions above.
---
---
To All SenCom Members:
I have resolved the issue with the database software that I experienced on Wednesday, January 18, and the system is up and running correctly.
Unfortunately, it appears that the problem was caused by operator error — namely, ME!
I apologize for the inconvenience. Thanks for hanging with me.
Lou Risley
SenCom Membership Director
---
---
SOS! NEEDED NOW! – A volunteer to help our Board of Directors by filling the vacant board position of Program Director. We also need help with the Publicity position. If interested, please email me or another Board Member. Our email addresses are on the "Board of Directors" page under the "About Us" menu. Remember, this is your organization; please help us keep it healthy and growing!!
LITTLE OR NO COMPUTER SKILLS REQUIRED.
Lou Risley, 913-298-0575 or sencomprez@gmail.com
•  CDC is Closely Monitoring the Coronavirus Outbreak →
•  Google's Coronavirus Website →

---
---
.
GEEK FREE
By Joe Callison
3 December 2022
Virtual Credit Cards (Safer On-line Shopping)
Many seniors are hesitant to use credit cards for on-line purchases and for good reason. Some merchants are fraudulent, some have poor security for keeping your account information safe from hackers, and malware on your computer can steal your information while you use it for transactions. Having to get your credit card canceled is a nuisance and it takes time to get a new one issued. A recently introduced option that is growing in popularity is the virtual credit card.
There are multiple types of virtual credit cards available with various ways of working. The most basic type may be available from your current credit card provider. It has a different number, expiration, and security code than your physical primary credit card, but it is linked to the same account by the credit card provider. You can use the virtual credit card information for purchases and if there is ever a problem with it, only the virtual credit card is canceled, leaving your physical primary card available for use, and you can also obtain a new virtual credit card at any time.
Another type of virtual credit card is one you can manage on-line or through a mobile app and may have options to be created as a single-use or multiple-use credit card, a single merchant credit card, ability to be locked and unlocked by you when needed, and have spending limits or frequency of use limits. It is also linked to your physical primary credit card account and the information is secured by the issuer of the app, so it needs to be trustworthy, preferably from one of the major credit card providers.
Internet browser extensions are also available to create virtual credit cards for on-line purchases through the browser, but extensions can be from risky sources, so preferably they should be from the major credit card providers. Google Chrome has the ability to make in-browser purchases without adding an extension, by storing your physical credit card information in your secured Google account and turning on the autofill feature of Chrome. An option for using a virtual credit card instead of your physical card pops up for most merchant sites if your credit card provider supports it. Google contacts your credit card provider and obtains a virtual credit card number, expiration date, and security code for the transaction in a matter of seconds. This is the method I have been using for a few months now and I really like it.
Virtual credit cards can make on-line purchases much less worrisome and the convenience for seniors, especially those less mobile, can be a real benefit.
Resources:
What Is a Virtual Credit Card?
Virtual Credit Card Numbers: The Complete Guide – Forbes Advisor
Use virtual card numbers to pay online or in apps – Android – Google Chrome Help
The 13 Best Virtual Credit Cards in 2022 [Detailed Guide]
An Alternative to a Virtual Card: Prepaid Credit Card
For both on-line and in-person purchases, you may prefer this method instead.
Visa Prepaid Reloadable Personal Cards
Mastercard Prepaid | Just Load and Pay | Safer than Cash
What is a Prepaid Card? | Discover

---
---
.
FOR~GO
(For Geeks Only)
By Joe Callison
19 December 2022
New Life for Unsupported Apple Computers
Old iMac and MacBook computers that are no longer able to run currently supported versions of macOS can actually be made to run them with the help of the free OpenCore Legacy Patcher. A list of supported Apple models can be found at: Supported Models | OpenCore Legacy Patcher
A YouTube channel called Mr. Macintosh has many very helpful instructional videos on using this method to extend the useful life of your older Apple products: https://www.youtube.com/@Mr.Macintosh
I would strongly recommend upgrading from a hard disk drive (HDD) to a solid state drive (SSD) first if you have not already done so. Cloning can be accomplished using the Apple Disk Utility or even simpler (in my opinion) with the free downloadable SuperDuper! by Shirt-Pocket.com: SuperDuper!
The SSD upgrade kits and instructional videos from Other World Computing (OWC) make this a doable DIY project for many people. I have upgraded many 2009 through 2012 models using these kits: OWC or MacSales.com
You may also benefit by installing additional random access memory (RAM) if you currently have 4GB or less, also available from OWC/MacSales.
Enjoy your refreshed Apple computer at a fraction of the cost of a new one!
---
---
Google Fiber
City of Shawnee:
Parks & Recreation Department
Johnson County Library:
Central Resource, Oak Park
---
---
SENCOM IS A NOT-FOR-PROFIT KANSAS CORPORATION
UNDER THE IRS 501(C)(3) RULES

---
---