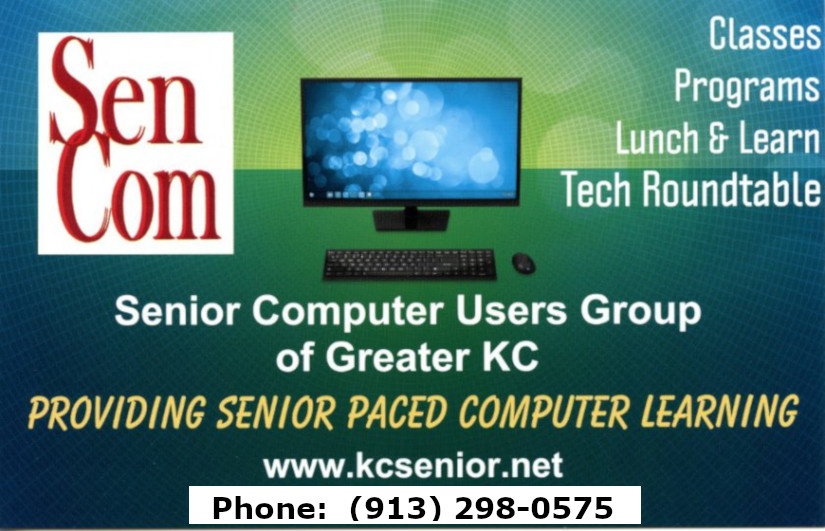 ---
Reminder: There will be no General Meetings on the 2nd Friday of the month for the vacation months of July and August. All Special Interest Groups (SIG), SenCom Lunch & Learn, and classes will continue to meet as usual.
---
---
iPad/iPhone SIG
Central Resource Library
9875 West 87th Street
Overland Park, KS 66212
Conference Room 1
Friday, August 19, 2022, 2:00 – 4:00 pm
The main goal of our special interest group (SIG) is to share our knowledge of all things iPad and iPhone. The group is open to all. We encourage your questions on general and specific Apple-related topics/issues. Bring your questions to the meeting or send Ray a text or email before the meeting and he'll add them to the agenda.
Ray Martinez convenes the iPad/iPhone SIG
(913) 991-0155, rpmartinez@ymail.com
---
---
.

Android SIG
Oak Park Library
9500 Bluejacket St
Overland Park, KS 66214
Large Meeting Room
Wednesday, August 24, 2022, 2:30 – 4:00 pm

Note: This will be a hybrid meeting. Join in-person or remotely using the Free Conference Call as referenced in the Revised Virtual Meeting Procedure shown below.
If you have any questions about Android, please email me as soon as possible. I hope to get the online part going by 2:25 but stay online in case I am a little late. If we run out of questions, we can also explore our settings a little more if there is any interest.
Looking forward to seeing you on Wednesday,
Bob Bowser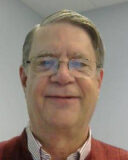 Bob Bowser convenes the Android SIG
(785) 608-4904, bobbowser.rdb@gmail.com

---
Revised Virtual Meeting Procedure:
We miss seeing our members. If you have been having problems joining our virtual meetings using Free Conference Call, please contact a Board Member and one of us will work with you prior to the meeting you are interested in joining. Board Members' email addresses and phone numbers are under the "About Us" tab of SenCom's website.
QUICK ACCESS TO A SENCOM MEETING
If you have the FreeConferenceCall (FCC) app, please start the app to join our meeting with audio and video. If you do not have the FCC app and do not want to install the FCC app, please click on this link below to enter the virtual meeting, and participate with audio only (your picture will not be available to anyone):
https://www.freeconferencecall.com/wall/sencomuser00/viewer
You will still need to tell Free Conference Call to use the audio either of your computer or through a separate phone call. If you are using the FCC app on a computer, smartphone, or tablet, turn on your video by clicking on the icon of a video camera so that we can see you. On a phone or tablet, you may need to tap your screen to see the icon.
Here are the complete instructions for our virtual meeting procedure:
We are using a service called Free Conference Call that allows all of us to be on at one time through video/audio conferencing or just audio conferencing. If you have a camera and speakers on your desktop computer or a laptop computer with a camera and speakers, you will find that using your PC or Mac computer along with the FCC app will probably give you the best experience. To use your computer to conference into the meeting, follow the instructions that I have assembled in this PDF:
Using your computer to access the Free Conference Call (PDF)→ (Revised)
Also available on our Free Conference Call page→ (Revised)
When using the Chrome browser to access a video conference, you may see a message that your browser has blocked access to your camera or audio. Look at the icons at the top right area of your browser for an icon with a red X like the following:

Click on the icon and then click on the button to allow access and then click the Done button. If the red X does not disappear after a few seconds you may need to refresh your browser by clicking on the icon near the top left of your browser that looks like the following:

The settings for the site will be saved in your Chrome browser Privacy and security settings so you will not need to do this the next time you access the site.
Although Chrome is the preferred browser, others have used Firefox without any problems.
For those who wish to use their Android devices (either tablet or phone), we are using an app called FreeConferenceCall that you can download from the Google Play Store (note that there are no spaces in the app name). Bob Bowser has assembled a set of instructions that you can print and follow to join the meeting:
Using your Android device to access the FreeConferenceCall (PDF)→
Apple iPad/iPhone users can find the same app (Free Conference Call) on the Apple App Store. Installing and using it should be very similar to the Android instructions above.
#

---
---
We need volunteers to help our board members and to fill two positions: Programs and Education. We also need help with Publicity. If interested, please email me or another Board Member. Our email addresses are on the "Board of Directors" page under the "About Us" menu.  Remember, this is your organization; please help us keep it healthy and growing.
LITTLE OR NO COMPUTER SKILLS REQUIRED. 
Lou Risley, (913) 298-0575 or sencomprez@gmail.com

•  CDC is Closely Monitoring the Coronavirus Outbreak →
•  Google's Coronavirus Website →

---
---
GEEK FREE
By Joe Callison
27 July 2022
Swollen Li-ion Batteries
A relatively recent phenomenon that is becoming more and more of a problem as our electronic devices have been designed to be ever thinner and lighter is a swollen battery. This is because the lithium-ion battery packs are no longer encased in hard plastic and are not designed to be user replaceable. They are thin, soft rubbery bags that are often glued in place and can only be safely replaced by professionals or very knowledgeable users. As a result, we don't really think about them until they show serious signs of problems. If we are lucky, those signs are just a decrease in time they can run without charging, inability to hold a charge while not being used, higher than normal temperature when charging, or inability to stay on when the charger is unplugged. An extreme battery failure may even prevent the device from running, even with the charger connected.
As batteries degrade over time, they can produce a gas that builds up pressure inside, causing the soft enclosure to bulge out. When devices were built with more room inside, the bulge may not have been evident, unless the battery actually ruptured, which could result in a fire. Now products usually have little room for battery bulge and the thin, flexible devices will often show visible signs of distortion, or problems with keyboards or touchpads not working properly if the battery is pressing on their underside. Damage to internal components is likely in extreme cases. Continuing to use the device when bulging is evident or attempting to charge it can result in rupture of the battery and a fire. There have been multiple recalls of products with lithium-ion batteries that became swollen prematurely because of defects in manufacturing.
SWOLLEN LAPTOP BATTERY ON TOP, NORMAL BATTERY ON BOTTOM
.
Current lithium-ion batteries in consumer electronics are typically usable for 3 or 4 years maximum before they show a serious drop in capacity (run-time). Battery longevity can be improved by not charging the battery to 100% or leaving it on the charger unnecessarily. Keeping the charge between 40% and 90% is ideal for maximum longevity. Smart battery technology in some Dell and Lenovo products are now using variable automatic charging control based on your typical usage. Some HP products will charge to 100%, but turn off charging until the battery drops to around 97%. Charging a hot device or leaving it in a hot car can destroy a battery or even cause a fire. Around 30 to 50% is the usual recommended charge for storage of batteries in unused devices for up to about 6 months. If storing for a year or more without checking the charge, then storing at near 100% might be necessary. You can expect a decrease in charge of about 20% per year of storage.
Batteries have low voltage protection to prevent the cells from getting so depleted that they are not able to recover. Devices usually shut down automatically long before the batteries get that low.
Fast charging is popular with consumers for electronic devices, power tools, and electric vehicles, but it is much harder on the batteries, and the batteries as currently designed will not last as long as they could at lower charging rates. The better designed battery chargers only fast charge at the low battery charge condition and reduce the charging rate as the battery approaches full charge.
Lithium-ion batteries can be dangerous if damaged and must be disposed of properly. There are many stores selling batteries and electronic products that you can take old batteries to for disposal or recycling.
---
---
FOR~GO
(For Geeks Only)
By Joe Callison
6 August 2022
Advanced Configuration & Power Interface (ACPI)
The Windows operating system ACPI standard can support several states of power for computers, but not all are typically supported by the hardware manufacturer. The possible states are identified as follows: 
S0: normal working state
S1: CPU stops executing instructions but is still powered
S2: CPU loses power, but other components are still powered
S3: Most PC components lose power but RAM is kept refreshed in a low power state. This is the most common state that is defined as the "sleep" or standby state in Windows.
S4: This is the "Hibernate" state and is one of the items that can be configured after clicking "Change settings that are currently unavailable" in the Control Panel settings under Power Options – Choose what the power button does – Define power buttons and turn on password protection, as shown below (blue text next to the shield). Current system data and memory is written to a storage file (hiberfil.sys) and then all system power except for the network adapter, keyboard, mouse, and USB devices is lost. This is defined as the "hibernate" state in Windows. Waking from hibernation through one of the powered devices will reload the system data and memory from storage.
S5: This is the "shutdown" state in Windows. All system power is shut down in an orderly sequence.
G3: This is the hardware shutdown that functions outside of Windows to shut down all system power. The hardware power button can be configured in the Windows settings to initiate sleep, hibernate, shutdown, turn off the display, or nothing with a brief press. Depressing the power button for approximately 4 seconds or longer will turn off the power without going through a soft shutdown sequence.
There are additional power-related states that are variations of these states.
Low Power Idle (Standby) is an S0 state supported on some devices such as phones and tablets to conserve the battery and wake quickly.
Hybrid Sleep is an S3 state that will write to a hibernation storage file in the event power is lost while in the sleep mode. This is only provided on some devices by manufacturers.
Fast Startup writes to a hibernation storage file during a normal shutdown after the user is logged off, so only the operating system data is restored from storage, to speed up the boot process. This is a Windows feature that can be enabled or disabled in the Windows settings. The "restart" in Windows does not write to a hibernation file when shutting down regardless of the fast startup setting.
The available power states and their configuration status can be shown using the command prompt as follows:
Open Start
Right-click on Command Prompt and select the Run as administrator option
Type powercfg /availablesleepstates or powercfg /a and press Enter
The Hibernate state can be turned on or off from the command prompt. For example, powercfg /h on will turn hibernation on, and powercfg /h off will turn hibernation off. If hibernation is turned off, this will also disable Hybrid Sleep and Fast Startup from writing a hibernation file, it appears from the command prompt report below.
Other powercfg commands can be explored using help by entering the following in the command prompt:
powercfg /?

---
---
Google Fiber
City of Shawnee:
Parks & Recreation Department
Johnson County Library:
Central Resource, Oak Park
---
---
SENCOM IS A NOT-FOR-PROFIT KANSAS CORPORATION
UNDER THE IRS 501(C)(3) RULES

---
---