FOR~GO
(For Geeks Only)
By Joe Callison
9 April 2019
Are you curious about the capabilities and limitations of a Chromebook as a possible next computer?
Do you have an old desktop or laptop computer with an obsolete operating system that you would like to put a familiar looking modern operating system on for free?
Do you want to try out a Chromebook experience that runs from a USB flash drive on your current Windows 10 or macOS desktop or laptop?  
It has never been easier to experience a Chromebook for free than with the CloudReady product by Neverware:
https://www.neverware.com/#introtext-3
The following describes my creation of a USB flash drive from a Windows laptop computer. The Neverware web site has instructions for macOS and Chromebook computers also, along with step-by-step instructions.
First, I downloaded the free USB Maker for Windows:
https://www.neverware.com/freedownload
Next I ran the downloaded file: cloudready-usb-maker.exe
Click Next and then choose 64-bit or 32-bit: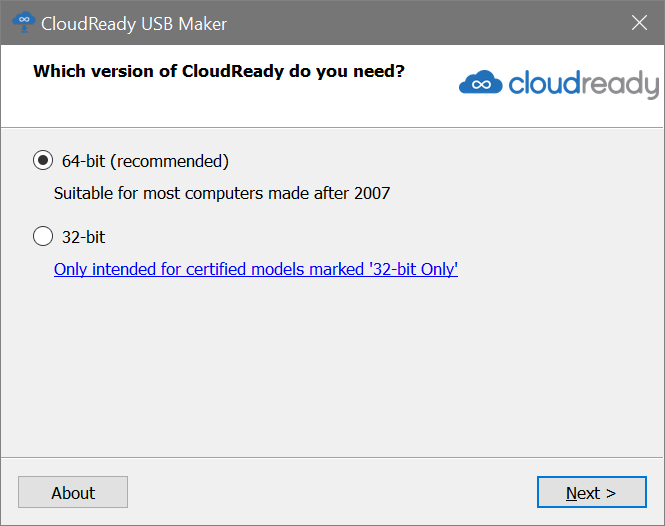 Click Next and insert an appropriate USB flash drive:
Click Next and select the USB Device:
Click Next and wait for the installer image to download, be extracted, and used to create the USB installer, which may take up to 20 minutes. When done, the folders on the USB will be displayed in File Explorer and you can click either Finish or Make Another USB in the USB Maker program:
For the computer to be used to run the CloudReady USB, insert the USB and use either the boot menu or bios settings to choose the USB device as the first boot device. Boot the computer and the CloudReady screen should soon appear, then a welcome screen. Click the Let's go button.
Choose the network to connect to and after entering the network password and connecting, an Anonymous Data Collection screen will appear. After choosing whether to send metrics or not, click the Continue button.
Next will be the Google sign in screen. A sign in with a Google (Gmail) account is required if you want to be able to install and use apps from the web store or change settings. Otherwise you can only Browse as Guest which gives you access to the internet only and deletes all user data when done.
After signing in with a Google account it is recommended to go to the settings and under Media Plugins, choose to install Proprietary Media Components. A restart will be required. This will enable media to be played in the browser, such as videos and music.
Apps can be added from the Web Store, such as Google Drive (for Docs, Sheets, and Slides) Gmail, and Google Photos. Some apps will work even if offline and some only when connected to the internet. Unlike recent models of actual Chromebooks, the Android Apps can't be installed, at least not at this time.
The USB installer can be used to install the OS to the computer drive instead of running it from the USB. This would be useful for turning an old computer into a Chromebook device. Just remember that the existing data on the drive will be erased.
The initial installation offers a tour to familiarize yourself with CloudReady, or you can get help from the Neverware web site.
CloudReady is a great way to see if you are ready for a Chromebook, and can even be your Chromebook of choice.