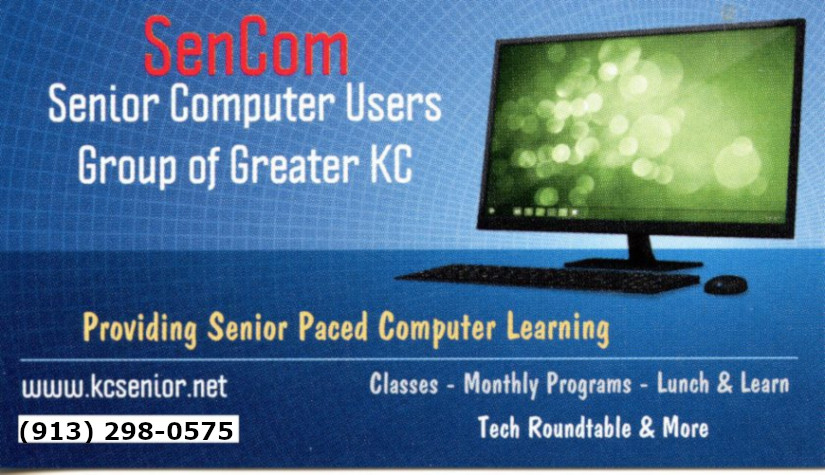 ---
---
Seniors Learning from
Experienced Seniors
We have ten monthly General Meetings, with none in July or August. They are usually held at the Johnson County Central Resource Library in the Carmack Room, except for the May meeting which is our members-only Annual Meeting & Lunch which is currently held at Lakeview Village in the Southridge Building.
SenCom is an organization of seniors (50 plus) who choose to develop skills that allow them to use E-mail, surf the Internet safely, Google, and Facebook, use word processing and do many other computer tasks.
Our Mission Statement: "Providing Senior Paced Computer and Technology Learning Experiences."
---
---
.
Volunteer Teachers
Our experienced teachers bring their own expertise on subjects taught in the Computer Lab.
We have an up-to-date Computer Lab with Windows 10 and Windows 11 machines for hands-on use. The instructor also has each of his machines connected to a projector so that students can follow along on the screen.
---
---
Friendly Social Interaction
We gather socially once every month, on the fourth Friday, for a luncheon; and answer computer-related questions. We call it SenCom Lunch & Learn.
We meet at Pegah's Family Restaurant from 11:30 am to about 2:00 pm where we share ideas, jokes, and news, and resolve members' computer problems in a very informal setting. (Check out this and other Groups & Meetings under the Meetings & Groups menu.

---
---
Computer Workshops
Our workshop sizes are small with helpers to make the learning experience a positive one, with lesson plans properly paced for seniors.
Our Computer Lab is in partnership with The City of Shawnee Parks & Recreation Department. The money from our workshop fees and membership dues provide up-to-date computers and software for our Lab. (Check out our class listings on the Classes page.
---
---
Benefits of SenCom Membership include:
Increasing your computer knowledge

Taking classes to explore new developments for computers, tablets, and phones

Having access to educational programs

Learning about the latest computer risks and how to protect your computer and other devices

Participating in social interaction at meetings and Special Interest Groups

Getting help with your specific computer problems, issues, or needs through Q&As at every meeting
---
---