https://apcug2.org/
https://www.youtube.com/user/APCUGVideos/videos
https://www.facebook.com/APCUG
https://twitter.com/apcug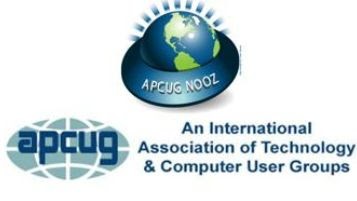 Fall 2022
NOOZ is sent to your group's officers listed in the UGLS (APCUG's membership database). Thank you for keeping the list up to date. If you need a username and password or don't remember them, please get in touch with Lee Laughner, Membership Chair, at llaughner (at) apcug.org.
In this edition of NOOZ:
Annual Meeting statistics.

Membership Renewal.

Tech Holidays (meeting ideas).

Region 8 Advisor Notes.
1. Annual Meeting statistics:
Hosted Websites – 18.

PUSH 2022 – 90+ original articles sent to editors as of 11/12/22.

Zoom Team – Groups sharing meetings – 46; 16 groups meeting via the free Zoom Pro accounts.

Wednesday Workshops – 45+ unique presentations with handouts for attendees and videos uploaded to APCUG's YT channel for groups to use at their meetings; 125+ hours of learning; almost 2360 YouTube views, up from 1800 in 2021.

Speakers Bureau – approximately 213 requests January – April 2023; 18 presenters, up from 16 in 2021.

APCUG2.org – approximately 137 Tech Tidbits; 126 Apple tips; 120 Linux, and 52 Chromebook tips uploaded.

Facebook – approximately 200 posts.
2.Fall 2022 issue of Reports. Check out the articles, you might find an idea or two or three for your group.
Meeting ideas in the Region reports.

Ideas for finding volunteers.

Starting something new for 2023 – a virtual Help Desk.

Meet our new groups.

Social Media security tips.

Various tips in Gabe Goldberg's General Articles.
3. 2023 Membership Renewal. Membership renewal begins November 1 and goes through December 31. If a group does not renew by 12/31, it will be moved to Inactive status.
Checks must be received by 12/31 for the group to be included in the Membership Renewal Contest = three groups will become winners.

Short renewal form.

Pay via check, PayPal, or Zelle.
4. Tech Holidays:
January 28 – Data Privacy Day – Events + Programs – National Cybersecurity Alliance (

staysafeonline.org

) —

February 7 – Safer Internet Day – Home – Safer Internet Day

February 13 – National Clean Out Your Computer Day – NATIONAL CLEAN OUT YOUR COMPUTER DAY – February 13, 2023 – National Today

March 31 – World Backup Day – Home | World Backup Day — March 31st

Spring Clean Your Computer – A complete guide to digital spring cleaning | Popular Science (

popsci.com

)

Spring Clean Your Online Life – Spring Clean Your Online Life – National Cybersecurity Alliance (

staysafeonline.org

)  Clear Out Your Cyber Clutter With a Digital Spring Cleaning | Office of the Chief Information Security Officer (

ucla.edu

)

April 12 – Identity Management Day – Identity Management Day 2022 | Identity Defined Security Alliance (

idsalliance.org

)

May 4 – World Password Day – World Password Day (Thursday, May 4th, 2023) (

wikidates.org

)

August 1 – World Wide Web Day – WORLD WIDE WEB DAY – August 1, 2023 – National Today

October – Cybersecurity Awareness Month

October 21 – International Caps Lock Day – International Caps Lock Day – October 22, 2022 – Happy Days 365 – Also June 27

November 12-18 – International Fraud Awareness Week – International Fraud Awareness Week (

fraudweek.com

)

November 30 – Computer Security Day – National Computer Security Day Information and Resources 2021 (

cybertalk.org

)
5. Region 8 Advisor Notes:
Greetings, Region 8 Officers and members, and Happy Holidays to you and your members. Your Fall APCUG Reports are here. Thank you for your continued support of APCUG. Please remit your 2023 dues promptly. If a group does not renew by 12/31, it will be moved to Inactive status. May I remind you that 2023 is an opportunity to strengthen or rebuild your club? We all have had a trying two years, but out of adversity, we have been exposed to the recent technology of online meetings. We are learning that online meetings can co-exist with in-person meetings by using this innovative technology to our advantage. My club is offering hybrid meetings that have attracted former members that have moved out of the area or have some other issues that make in-person problematic. The Zoom software is the program of choice for many groups. If you are having issues with implementing the software, please don't hesitate to reach out to APCUG for help. Some problems with audio and video can be solved through a simple conversation. We are here to help you get through those obstacles. We also have Zoom accounts that you can use should your club not be able to afford those resources. These accounts also allow you to try out the software should your group elect to subscribe. Don't let your club die due to inactivity.
Windows 11 is becoming more of a player to our members. With the Black Friday and Holiday sales coming, you may find your members faced with purchasing a new computer with Windows 11 installed. If you read my article, you will see examples of groups that have to support Windows 10 and Windows 11. Having a support person that is familiar with both Windows 10 and 11 is very helpful. The year 2023 will be a challenging year for us all.
Happy Computing
Bill James, Region 8 Advisor
AL, AR, KS, LA, OK, TN, TX
Advisors are your communication link with APCUG.
#
---
---
PUSH Articles – June 2019
Apple v Windows PCs
This month I'll take a look at the differences between Apple and Windows-based PCs from the perspective of a repair guy such as myself.  Continue reading→
Aukey USB Outlet with Night Light Plug-in
I spotted this Aukey USB outlet with Night Light Plug-in on Amazon one day. It was on sale for $6 off the $19.99 price and I thought it was a good deal for $13.99.  Continue reading→
Backup Tools and Procedures
With the growing popularity of smartphones and tablets, the need for backup has expanded to include those devices as well as traditional Windows and Macintosh PCs.  Continue reading→
Brain Dead In San Diego
Even if you don't do a complete system backup, please back up your important documents (i.e.- photos, videos, office docs, PDF files, and any other files you deem important to you) to a USB drive, CD/DVD, external HD or the Cloud.  Continue reading→
Do you know these Google Icons?
The icons represent some popular Google apps . . . All these apps are FREE with Google, all you need is a Google account.  Continue reading→
Google Fi
Google Fi will provide your phone the best of any of the three networks, Sprint, T-Mobile, or U.S. Cellular, by intelligently switching to the best network at that time and location.  Continue reading→
Interesting Articles, Websites, and YouTube Videos
Are Cheap Windows and Office Programs a Scam? Italian Grandma Hilariously Learns How to Use Google Home Device. Do This Instead of Printing (you'll save time and money). Etc…  Continue reading→
More About Browsers
If you open a website you are using a browser. Your computer or mobile device came with a browser installed, but is it the "right" one or the only one you should use?  Continue reading→
No Joy in Techville?
Pour a liquid into a glass just up to the midpoint. An optimist would say the glass is half full. A pessimist would say the glass is half empty. An engineer would say the glass is twice as big as it needs to be.  Continue reading→
Office 2019 and Changes to Office 365
Microsoft has been releasing new versions of Office every three years for a long time. The newest version, Office 2019, is now available in stores or online.  Continue reading→
Review – Grammarly
Recently, I discovered a piece of software called Grammarly. It reviews your writing and finds typos, spelling errors, and grammar mistakes.  Continue reading→
Review – Honey App
Do you use the Honey app when you shop online? I do. It even works at Amazon.  Continue reading→

Using macOS X Photos
I normally do not use the Photos app as I like to manage my own images but this was at my wife's request to move some images.  Continue reading→
What happens in the downloading process vs. the saving process on a computer?
This month I'll discuss a couple of topics that were passed along as suggestions.  Continue reading→
What is a VPN (Virtual Private Network) and why use one?
A Virtual Private Network (VPN) is a connection method used to add security and privacy to private and public networks, like Wi-fi Hotspots and the Internet.  Continue reading→
What's with Google and YouTube?
Over 13 years ago, Google bought YouTube for $1.65 billion. Thirteen years later the YouTube purchase is generally considered to be one of the best consumer tech acquisitions ever . . . Continue reading→
Who Ya Gonna Call?
I teach computer classes at a local library and hear a myriad of students' horror stories about their unpleasant computer experiences.  Continue reading→
Freshly Squeezed Reviews: Write Right
I have been reviewing software and hardware for about two decades. Sometimes the words just flow, other times I need to pry them from my skull.  Continue reading→
You may have a new speech recognition program
I have used several speech recognition programs over the years. I have tried them all, and suddenly a new one showed up on my computer and it is the best one yet!  Continue reading→
---
---
PUSH Articles – April 2019:
Add a Display!
If you spend a lot of time at your computer, as I do, you might want to consider having two separate monitors. I love my two displays, as it gives me lots of extra digital "real estate" for when I have many windows open.  Continue reading→
A Great Photoshop Alternative
Gimp is a great free image manipulation program much like Photoshop. Here is a YouTube link to a 13+ minute video of a basic beginners' guide that I found very helpful:  Continue reading→
Audacity & Digital Audio Noise Reduction
This article describes the use of a feature of Audacity, the popular digital audio editor application, called noise reduction. Noise is audible all around us. When we make an audio recording, usually some noise is included.  Continue reading→
Build a Wall?
Walls can keep things out. Walls can keep things in. Walls that do these well usually aren't so good at also letting some things pass from one side to the other.  Continue reading→
CES 2019
There were 180,000 attendees, 4500 vendors, and some 500 qualified press.
Notable items: More IoT and AI, plus 5G, 4K, and OLED, autonomous cars, VR and AR
(VR means "Virtual Reality". AR means "Augmented Reality.)  Continue reading→
Clean Your Computer!
Files such as documents and pictures residing on your hard drive are unlikely to noticeably slow down your system if you have adequate hard drive space. However, software that loads every time the computer is used will eventually cause a significant drag on your system.  Continue reading→
Consider the Risks of Helping Friends with PC Problems
If you are known as a computer enthusiast, your less-experienced friends probably come to you for help when they run into problems. However, you should consider the risks before you agree.  Continue reading→
Cord Cutting or How I Love to Pay Less to Get More of What I Think I Need
 I may have just stumbled on, for me, the Holey (sic) Grail of news: For years, I have been attempting to get entire news shows from the internet, but only gleaned news clips, necessitating watching a few minute snippets and then having to click on another snippet and another . . .  Continue reading→
Encrypting a Drive
One of the added features of Windows 10 Pro over the Home edition capabilities, is the ability to encrypt a drive to protect all data and files contained on that drive from unauthorized access. An administrator can select a drive from the File Explorer app and turn on the BitLocker option from the right mouse button option list.  Continue reading→
Firewalls
A firewall is a program that monitors traffic on a network and rejects any data that violate its security rules. . . it can be host-based where it resides on a computer and controls all the data transferred through its data port, or it can be network-based where it resides on a modem or router that connects a local area network (LAN) to the Internet.  Continue reading→
Great Entertainment from Planet Coaster
Recently, I found in my browsing a game called "Planet Coaster" where I have enjoyed watching videos of roller coasters, parks, rides, and more all created by others who have been enjoying the tremendous creativity possible with this game.  Continue reading→
HDMI Device Connections
HDMI means High-Definition Multimedia Interface and it is the currently popular way to connect devices with a cable. The big advantage of HDMI is that it transmits not only high-definition video but also audio as well, in one comparatively thin cable connection.  Continue reading→
In Defense of Apple Maps
The big troika of smartphone navigation apps is Google Maps, Waze, and Apple Maps. I believe that recently Apple has brought its Maps app up to parity and then some.  Continue reading→
Interesting Internet Finds
While going through more than 300 RSS feeds, I often run across things I think might be of interest to other user group members. The following are some more items I found interesting during January, February, and March of 2019.  Continue reading→
Mistakes We Make When Buying a Computer
There is a lot of tech jargon flying around, and all of it is competing to get your money. Because of that, mistakes are easy to make, and they can easily result in your money going to waste.  Continue reading→
My Meshed-Up Wi-Fi
Our modern electronic devices are all about connectedness. It seems everything we have now is connected, and that connection is integral to the capabilities that are provided for us. Before they were connected, computers were just big boxes that made calculating and writing easier; . . .  Continue reading→
Partially Locked Laptop
This month I'll look at an interesting situation of a partially locked PC that I picked up at a recent auction. One of the features that all PCs share is the ability to set a supervisor, master or boot PC password.  Continue reading→
Personalize your Desktop
All desktops are not created equal. Just look at the differences the next time you go to a class where you bring and use your own laptop. I bet none of those other desktops will look like your own desktop.  Continue reading→
Phishing Expeditions
A "phishing" email is one that attempts to obtain your personal account information to use for unauthorized purposes. When I included that article in Green Bytes, I hadn't personally received a phishing email. But this month I did . . . Continue reading→
Samsung Galaxy Inductor
Samsung has made some very innovative uses of a type of electronic device called an inductor, which is a coil of wire. When I took the basic electronics design lab course in college, we studied and modeled three basic circuit components: resistors, capacitors, and inductors.  Continue reading→
Smart Homes
I'm pretty sure that almost all of you have heard about having a 'Smart Home' and may be wondering what that's all about. This month I'll take a look at what that means and some of the issues to watch out for.  Continue reading→
To Discern the Truth
Today we are all unwitting participants in a game played out on the internet to discern the true identities of those we communicate with. Unfortunately, the stakes are higher than some cash divided among the contestants that are proportional to the number of celebrity panelists deceived by the imposters, as in To Tell the Truth.  Continue reading→
Traveling with Electronics
When preparing for a trip, think carefully about what you really need. Every piece of gear you add is more weight to carry, another thing to protect, and another distraction from visiting and sightseeing.  Continue reading→
Traveling With Your Devices
You are probably used to using your computer devices at home, but what about traveling? Taking your devices with you can make your trip much better with directions, shopping, gas, emergency needs, entertainment, and much more.  Continue reading→
Wi-Fi Security
Wi-Fi is all around us. In homes, libraries, airports, shopping centers, recreational places, houses of worship, the CA buildings, just about everywhere. Wi-Fi is the first step in the complex way we get to the internet for information, entertainment, or purchases.  Continue reading→
Windows 10 May Update
Most of our Windows 10 Home users will get this release when Microsoft decides to push it out to their PCs via Windows Update. That will likely be sometime in April, possibly early May, especially for newer PCs.  Continue reading→
Windows 10 Screen Capture Tools
The ability to capture an image of a whole computer screen or Window has been around since the 1960s. It comes in handy for anyone who wants to include a portion of a screen, such as a picture, group of text, chart, or graph, in another place.  Continue reading→

---
Copyright © 2021 APCUG, All rights reserved.
---