GEEK FREE
By Joe Callison
4 June, 2018
Internet browsers have recently begun displaying red warning pages about potentially unsafe websites you are about to navigate to. Google analyzes keywords and attributes found on the page that might indicate danger and flags the site in a database that is also used by some other browsers for their warnings. It is possible for a site to be flagged as dangerous that is not, and Google will investigate and remove a listed site from the database if requested to do so, though it may take some time for that to happen.  
You can proceed to a potentially unsafe site at your own risk if you want to, and if using the Chrome browser Google will still block some unsafe actions of the page. When I first saw one of these warnings, I wondered if users would think they it was fake because of similarity with past fake virus and malware warning pop ups I have seen. Now a whole new crop of fake warnings have begun showing up that look similar to the real warnings.
How to Spot a Fake Warning
A key difference between a real warning and a fake warning is in the action it wants you to take. A real warning wants you to avoid the danger by going back, closing the page, or closing the browser. They never, ever give you a contact link to click or telephone number to call.
A fake warning wants to direct you to another page, click on a link, or call a telephone number so they can hit you with their fake technical support scam or some other scam. If you ever get fooled into an encounter with one of these, disconnect or hang up! More information and what you can do if you have already allowed access to your computer by a fake technical support is in this link from Microsoft:
https://www.microsoft.com/en-us/wdsi/threats/support-scams
How to Manage Warnings about Unsafe Sites
You can change your browser security settings to manage the real warnings. Links about the major browsers' settings are below:
Chrome:
https://support.google.com/chrome/answer/99020?hl=en&co=GENIE.Platform%3DDesktop
Firefox:
https://support.mozilla.org/en-US/kb/how-does-phishing-and-malware-protection-work
Edge:
https://support.microsoft.com/en-us/help/17443/windows-internet-explorer-smartscreen-filter-faq
Safari:
https://support.apple.com/guide/safari/security-preferences-ibrw1074/mac
Examples of Real and Fake Warnings
Several examples of real warnings in major browsers are below, followed by examples of fake warnings.
Real warnings in Google Chrome:
Real warning in Microsoft Edge:
Real warnings in Safari: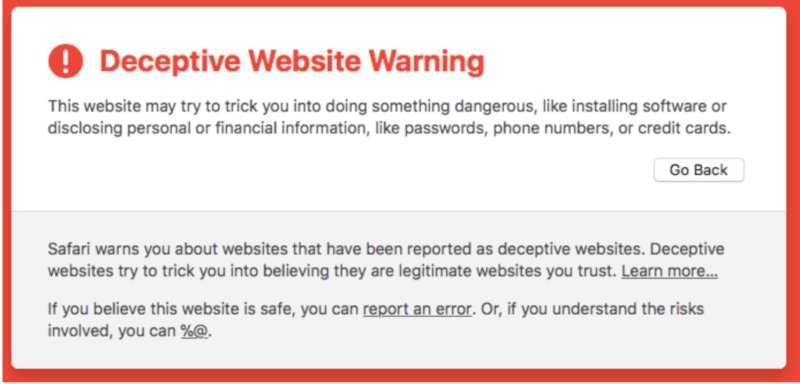 Fake warnings with fake tech support numbers: